By | June 1, 2020 | Leave a comment

Selecting the right kind of roof is one of the most strategic decisions you'll make in construction.  In tropical environments like The Bahamas, a strong roofing system provides the best protection against soaring summer heat, moisture damage, pests, and hurricanes.
Increasingly, architects and designers are specifying metal roofs because of their durability and performance in this climate. They withstand the elements far longer than other roofs, and can be designed to resist significantly higher winds than shingles. Low maintenance and energy-efficient, metal roofs are also gaining popularity for their attractive, clean lines and color options.
Although metal roofing systems include panels, shingles, and tiles, the standard specification for commercial and industrial applications are the corrugated type known as PBR (for "Purlin Bearing Rib"), and the standing seam roof.
PBR or Butlerib Roof
By 1939, Butler had invented, perfected, and patented the PBR system.  These roof panels are typically 36" wide and join on the sides by corrugating, or lapping, with the adjoining panel. Using "through fasteners," each panel is secured to its supporting member.  The method has given them the local nickname, "screw down" roofs.  Island Industries uses exclusive Lockrivet fasteners instead of screws, improving weather tightness, corrosion resistance,  and reducing risks formed in epic storm conditions.
PBR systems must be specified at a minimum of 24 gauge for The Bahamas' high wind requirements.  This material can be applied as a structural roof spanning across purlins (horizontal roof beams) or over plywood decking.
PBR is available with a protective Galvalume finish, or in aesthetically-pleasing Kynar 500, a glossy, resin-based coating offered in virtually any color of choice.
PBR systems are specified for smaller, open span applications. These roofs are somewhat more economical than SSR and offer superb resistance in high wind conditions.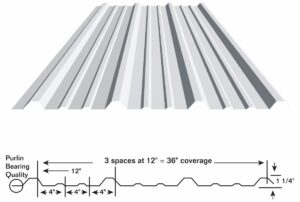 PBR metal roof panel
Standing Seam Roofs
Standing seam (SSR) roofs vary in width from 12" to 24".  Panels connect via a vertical, or standing leg, mated with an adjoining panel seam.  Seams are snapped, crimped or machine rolled together.  Beside each seam, special clip fasteners are captured and screwed into the underlying substrate, then formed into the seam.  This process anchors the metal roofing system without any penetration through the panels.
SSR fastening systems are engineered to allow roof panels to "float," expanding and contracting with temperature changes.  Special clips seamed into the side laps at each fastening point allow for thermal movement.
SSR systems are chosen to complement one of two applications:  either structured or architectural roofs.  These terms distinguish how the roof is supported.  Structural roofs are designed to mount broad spans of metal roofing which attach directly onto hefty steel purlins, or battens.  Structural roofs are watertight.  Architectural systems are clad on a substrate such as plywood or metal decking; they shed water but are not fully impervious to moisture.
Butler's VSR Standing Seam Roof
Structural Standing Seam Roofs
Structural SSR is typically used for open span applications where high wind resistance is required–visualize industrial warehouses, airplane hangars, factories.  In wider buildings, it is critical to control thermal movement, and structural SSR's provide this breathing room.
Structural systems are capable of spanning unsupported across purlins and are more robust than architectural roofs. They are typically machine-seamed with a trapezoidal seam profile.  They are engineered to meet the extreme wind loads specified by local codes – 180 MPH for the Bahamas. They can be used for slopes as low as ½":12", making them ideal for wide span, steel buildings.  With roof slopes of such a nominal margin, it's vital that the surface is absolutely impermeable to water.
One remarkable example of this type of roof is Maxwell's Supermarket in Marsh Harbour, Abaco.  Its roof featured Butler's sophisticated, 22 gauge, MR-24 system.  It took a direct hit from Hurricane Dorian in September 2019 and suffered only minor damage, riding out gusts in excess of 200 MPH.  Its resilience allowed Maxwell's to be used as a command center for post-hurricane recovery. They quickly restocked and reopened as the only grocery store on mainland Abaco, also providing facilities for customs brokerage, a bank, furniture, and a building supply store.  Maxwell's has provided practical provisioning and tangible hope throughout the arduous journey towards recovery.
Butler's MR24 structural SSR with Pittsburgh double-lock seam
Architectural Standing Seam Roofs 
Architectural SSR's are typically used for residential applications, commercial awnings and porticos, and structures where aesthetics are important.  They are suitable for complex roof profiles with multiple hips and valleys.
This SSR requires a substrate, typically wood, and is not capable of low slopes less than 3:12.  In other words, these roofs are steeper and rarely appear "flat."  Generally, they are not required to meet high wind loads under most building codes, as they are considered an architectural covering like an asphalt shingle.  However, they can be designed to meet high wind loads by using narrower panel widths (12" or 16"), higher gauges (22 or 24), the closer spacing of the sidelap fastener clips (2'- 6" max.), and fully folded machined seams.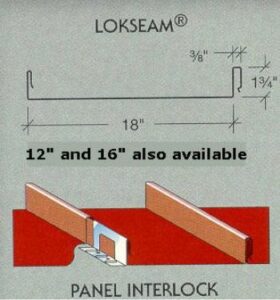 Typical Snap Seam Architectural SSR
SSR finish coatings
The standard finish for SSR is Galvalume,  a carbon steel sheet coated with aluminum-zinc alloy,  using a continuous hot-dip process.  As it resembles galvanized metal, Galvalume cladding is often used on low or "flat" slopes, where the roofing is barely visible, or of little visual importance.
However, SSR systems are also available in many attractive, factory-painted colors.  The industry standard is a premium, resin-based paint, Kynar 500.  Its glossy finish holds color and sheen, unlike low-bid, polyester, baked-on coatings which quickly chalk, fade and peel.
Island Industries' metal roofing systems are backed by the Stateside Butler Guarantee, for 10 to 25 years, depending on your roof's specifications.
Tags: Metal Roof